University of Arizona College of Law, JD
Arizona Law Review
Magna Cum Laude
Seattle University, Masters in Teaching
Arizona State University, Bachelor of Arts in Psychology

I have had a broad range of professional experiences including:
Professional investigator and trainer at Microsoft
read more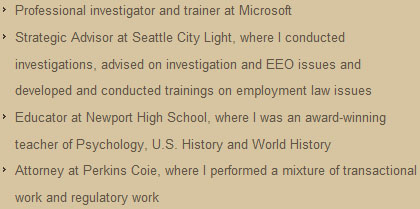 I have conducted more than 75 investigations, including many involving complex subject matters with multiple allegations, multiple complainants and/or multiple subjects.
I have conducted a broad array of investigations, including investigations into the following allegations: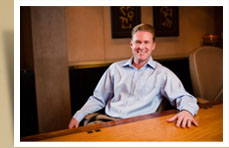 discrimination and harassment based on age, race, gender, religion, national origin;
sexual harassment;
retaliation for engaging in protected conduct; and
policy and process violations.

My investigations have been in the public and private sector, involving unionized, non-unionized and civil service employees.